Post Bariatric Reconstruction

Before & After
View the results of surgical
Treatments in our Before &
After picture gallery.
read more
Obesity is a widespread issue. With the rise in bariatric surgical procedures, there has been a concomitant increase in the demand for plastic surgical reconstruction after massive weight loss (MWL).The abdominal area is the most common area of treatment in MWL patients.
In the MWL patient, circumferential truncal body contouring procedures are necessary in many cases to achieve good aesthetic outcomes. Multiple body contouring procedures may be performed safely in combination, depending on patient preference, assistants in the operating room, length of anesthesia time, and the patient's overall medical condition
Since hair naturally grows in groupings of 1 to 4 hairs, today's most advanced techniques harvest and transplant these naturally occurring 1–4 hair "follicular units" in their natural groupings. Thus modern hair transplantation can achieve a natural appearance by mimicking nature hair for hair. This hair transplant procedure is called Follicular Unit Transplantation (FUT). Donor hair can be harvested two different ways.
Abdominal contouring in the MWL patient
• A panniculectomy is primarily a reconstructive procedure aiming to remove skin and fat from the anterior abdominal area in patients that are not at their optimal weight. The term abdominoplasty is primarily an aesthetic procedure involving the removal of abdominal skin and fat, along with tightening of the abdominal wall musculature, and repositioning of the umbilicus.
• Ventral and umbilical hernias are common in the MWL population.
• Vertical resection of trunk skin and fat (fleur-de-lis abdominoplasty) may be required to tighten the abdomen transversely. Care must be taken to minimize flap undermining.
• In patients with skin and soft tissue excess circumferentially, a procedure such as a lower bodylift or belt lipectomy may result in a more aesthetic result than a panniculectomy or abdominoplasty alone.
• The genital area or mons may require thinning and resuspension.
Lower bodylift
• In patients with excess skin and fat circumferentially, an isolated abdominal procedure is not the ideal choice. A lower bodylift or belt lipectomy will provide a more aesthetic result.
Thigh-lift
• The thigh must be conceptually divided into lateral and medial areas.
• In patients with minimally deflated thighs requesting thigh-lift, further weight reduction may be necessary. Alternatively, staged debulking procedures are required prior to excisional procedures.
Goals in Mastopexy after massive weight loss Breasts
• Elevation and repositioning of the nipple areola complex to the breast meridian
• Breast reshaping and tightening of the skin envelope
• Development of a natural and aesthetic curve of the lateral breast
• Volume recruitment, if possible, from the lateral thoracic roll
• Restoration of superior pole fullness
• Minimization of scar and proper scar placement
• Creating a long-lasting result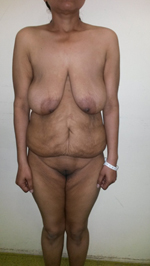 Post Bariatric Pre Operation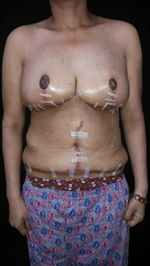 Post Bariatric Post Operation